In my previous post – Hello + Welcome To My First Blog Post, I mentioned briefly that I had just finished revamping this blog, Infinitely Chelle. In this post, I'll be letting you know exactly why I pressed reset, what my plans are, and the benefits of starting over!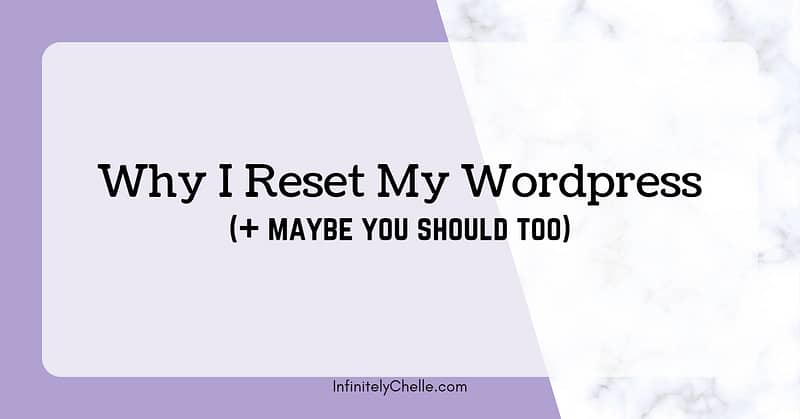 In all honesty, I started Infinitely Chelle because I fell in love with the name. I'm not even kidding. I loved it so much that I was willing to pay for domain and hosting without a real blogging plan. Probably not the smartest thing to do…. but that's what I did. *shrug* I knew I wanted to do something with the name… I just didn't know what yet.
I republished some posts on Infinitely Chelle that I initially wrote for my very first blog, CoffeeHeartMind, as they meant something to me. I also added a new post here and there. My initial goal for Infinitely Chelle was for it to simply be a journal of sorts, and while I did write a few posts towards that goal… that idea obviously went nowhere. Ha!
Months went by where I didn't even look at the blog but it was always on my mind. I was too busy finding what I'm passionate about. That, in turn, helped me to finally discover how im going to utilize Infinitely Chelle!
Why Did I Reset My WordPress?
When I finally had a purpose for Infinitely Chelle and was ready to work towards that purpose, I discovered that I couldn't even log into my WordPress because it had been that long since I logged on that I forgot my password. 🫣
When I got that dealt with, I saw that I just didn't connect with what was there.
I didn't like the layout nor the graphics I used. I didn't like the colors. The whole thing was just completely off. Yuck! What was I thinking? Lol! Plus, I pretty much totally forgot how to use WordPress. 😅
Now, I could've just relearned WordPress but I wanted to start fresh. Sometimes starting fresh is what you need.
So within not even 5 minutes of looking at a blog I haven't touched in 6 months, I pressed reset. 🤣
Now that I have the general layout where I want it and I have some of the general pages (about, contact, home) done, I can now focus on the other important parts: the blog posts themselves!
Now if I were to pick what blogging category I would put Infinitely Chelle under, I would say that it's a cross between a personal, business, and a lifestyle blog.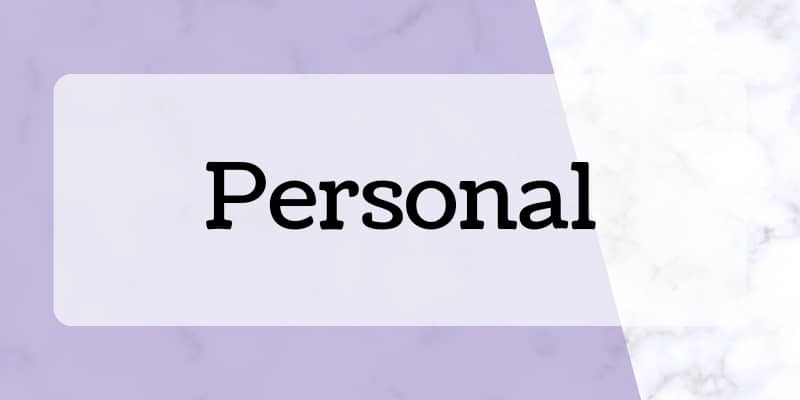 I'll be writing about my life as a spoonie, sharing recipes, and hopefully using journalling prompts to grow as a person and learn about myself. Self-therapy, amirite?
If you didn't know already, I create book journals and printables. So I want to use this blog to highlight those. I plan to write a post about each book journal and printable. I even created a simple catalog for both books and printables so that you can quickly see what I've created. If you want to see flipthroughs of my books, they can be found here on Instagram.
Being a part of the bookish community has been amazing! I've renewed my love for reading. I'll be sharing my book reviews here on the blog. I also have a very exciting series planned! 🤫
My hope for this blog is that it'll turn into a One Stop Shop for anything and everything Infinitely Chelle.  I plan to eventually sell my book journals and printables straight from the blog.
Benefits of Starting Over
Since I can't go into too much details on the benefits of starting a blog over when it comes to statistics (I don't do stats), I can tell you that there are definitely some instant benefits when revamping your blog from scratch. Some of the benefits are:
Designing the blog the way you've envisioned it.
Falling in love with your blog again!
You're more inclined to keep blogging away because you love the way it looks – on top of finally having some clear direction! 
So Is Pressing Reset Right For You?
Unfortunately, that is something that you're going to have to decide on your own. There are many factors to consider before pressing reset:
Is it just the design of your blog that doesn't appeal to you? If that's so maybe you can get away with just redesigning or using a new theme!
How long have you been blogging? I hadn't been blogging for a long time when I pressed reset, so I hadn't built up a following yet and I didn't have a lot of posts published.
Is your blog name still relevant? Does your new blog plan still go with your blog name? Might get confusing for your readers to read about your latest chicken recipe if your blog name + URL is about DIY Crafts, you know?  This is part of the reason why I love the name Infinitely Chelle so much – I don't feel limited.
Are your posts no longer relevant? Maybe your posts just need a bit of editing. I have a habit of emailing myself my posts so I always have them. This way, I can also edit my post to make it current or relevant. I can change the writing style of the post as my own writing style evolves.
These are just a few things to consider. I'm sure there are a lot more things I didn't consider but probably should've.