Organizing Your Advanced Reader Copies (ARCs) So You Don't Miss That Review Date
So you've joined Booktok and Bookstagram because you love to read. You start having indie authors ask you to help them by reading and reviewing their ARCs (Advanced Reader Copies)! Being the eager bibliophile that you are (No judgment! So am I!), you accept! Before you know it, you have numerous ARCs waiting to be read and reviewed but you don't remember when you were supposed to review them by! 
Does that sound familiar?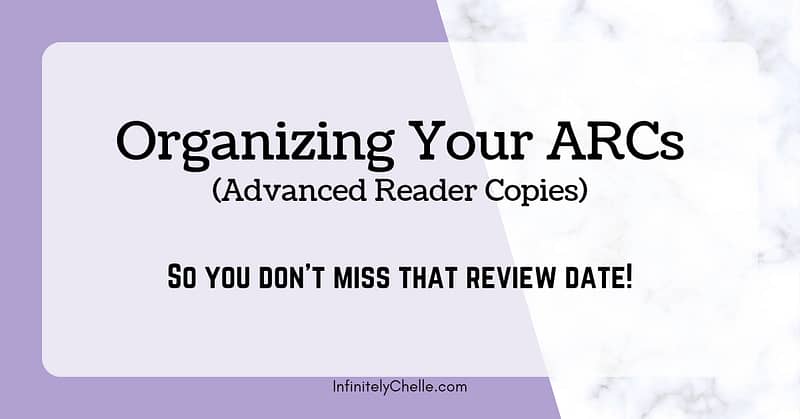 Don't worry! I gotchu! 
The exact same thing happened to me! I felt honored that they'd ask me and accept almost immediately! I didn't want to let them down! Yet it was inevitable that I was going to let some of them down by missing some deadlines. All because I like to take shit on while my time management skills suck. I'm annoyed at myself for that. 
What's my solution?
The "ARC Details" Printable!
I wanted to create a printable where I can collect all the information I need to properly present my review when I am finished reading an ARC (Advanced Reader Copy). There's no way I'm going to confuse review dates now!
Let's take a closer look, shall we?
Each section includes the following:
Title: This one's obvs, right? We should know what we're reading.
Author: We should definitely know

WHO

we're reading. I even put their social handles here for easier tagging.
Date Recieved: When did we receive the book?
Review Due Date: Try with our darnest bestest effort to have our reviews published by this date! Some authors don't require our reviews by a certain date… those are always nice.
Started Reading: Did you start it right away? Wait a few days or weeks? Write the date here!
Finished Reading: Did you devour it in a single sitting? Was it a longer read? Did you lose sleep? You know the drill, write the date here!
Bonus!

Checkboxes

for each place you posted the review:

Amazon
Goodreads
Facebook
Tiktok
Instagram
Youtube
Other
Now, go and enjoy your ARC!
So, head over to my shop and get your copy of ARC Details so you can organize all the information you need to be able to complete your reviews!
With this printable handy, you'll never forget a review due date again! You can also see how many advanced reader copies you are responsible for reviewing – so you can properly assess whether or not you can or should apply for another ARC.