How I Spent My Mother's Day!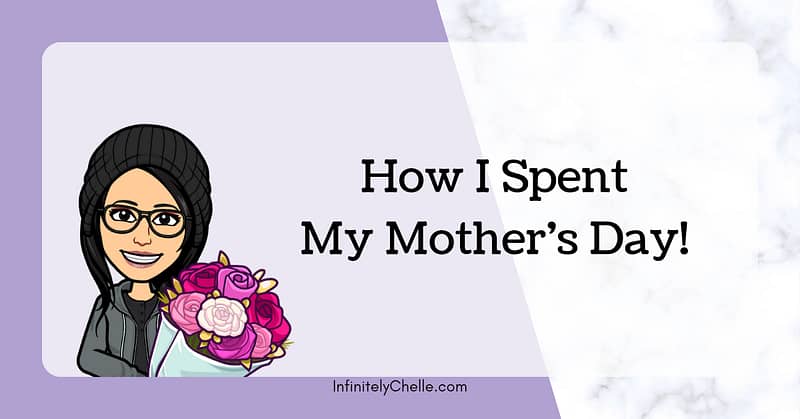 I find that as I grow older, I'm not as gung-ho over celebrating holidays. Birthday? Better not have a surprise party! I know… I'm lame… Obvs I'll celebrate Christmas, Thanksgiving, New Year's, and Mother's Day. Of course, my boy's birthday – but certainly not mine.
I enjoy celebrating small  + quiet.
Let me tell you about how I spent Mother's Day. It was certainly busier than usual. I know I just said that I enjoy celebrating small but that just didn't happen this year. This Mother's Day celebration ended up being 3-days!
Don't you find that growing older means a harder time finding a time that works for everybody?
May 9
I thought my Mr. was going to be working late on Mother's Day so we (my son, Mr., ma, and I) celebrated it the Tuesday before. We had all-you-can-eat Korean bbq! YUM!
May 13
On Saturday, my mom and I spent the day shopping. She's going through a make-up and skin care phase so she went and got a Raskog cart from IKEA for all her products. She wanted to hit some stores to find organizing containers for all of her stuff. 
We ended up at Dollarama and Winners. Funny how we went for containers to organize her Raskog cart but we ended up going home and her car trunk and back seat was full of stuff.
Quick overview of what we got:
exercise puzzle floor mats …like 5 packages worth! My brother is having a baby in the summer and the flooring at his place is not baby-friendly, so my mom wanted to get this for him. Easy clean up, too!
an hour glass …I got way too excited for this!!! They had two (2) styles available at Winners. The one I got reminds me of Hermione's time turner but a foot tall!!
kitchen stuff …I really like Dollarama kitchen stuff. Mom also wanted some to-go containers (like the ones restaurants give you for leftovers) because her zumba group always gets together and one of them LOVES to cook and she always cooks in excess so there are always left overs! 
groceries …because we were already there.
At least we DID purchase organizers for her Raskog cart! LMAO! Have you ever gone to the store to purchase one (1) item… only to purchase a whole lot of other stuff and forget the one thing?! Because we have. *facepalm
Registered Massage Therapy
What a PERFECT way to start the day! Our monthly massage was scheduled for that day and I couldn't be happier! My back has been hurting working on the computer constantly! My back just hasn't been the same since I got diagnosed with five (5) spinal conditions followed by a car accident a month later.

We picked up Korean chicken on the way home. Nom noms!
My son decided to surprise me with this beautiful bouquet of flowers when we got home! With a side of large Vanilla Bean Frapp from Starbucks! Such a sweet boy! He opened the door for me when we got home while hiding the bouquet behind the door! Sneaky guy!
My Hero Academia
My Mr. got off work earlier than expected! Yay! So my boys and I restarted My Hero Academia from the beginning. They don't remember the beginning of the anime which was fine because I wasn't that far along anyway!
Super Mario Bros Movie
Then we finally went to the theater to watch The Super Mario Bros Movie! Oh my goodness! This movie made my heart so happy! I had heard mixed reviews about the movie prior to watching. Most say that Millenials really enjoyed the movie whereas Gen Z didn't. *shrug We thoroughly enjoyed the movie as a family.
Orphan Black
Ended the day with some Orphan Black while my son played on his XBOX. I love this show so much! If anyone knows of a book series that's like Orphan Black, let me know please! I would just devour a book series like this!
How did you celebrate Mother's Day?
This year's Mother's Day was certainly busier than normal. We normally just go out to eat.
Do you normally do anything special to celebrate Mother's Day? Let me know in the comments!