Walking Into A Bookstore After 6+ Months & My Small Book Haul!
Do you have a happy place?  Book stores are one of mine. They have always been one of my happy places! In fact, my favorite place to have EVER worked at is Chapters. Oh my! To be surrounded by wonderful literary worlds! 
But that was a decade ago and lots have happened since then! As much as I love books and book stores, I had to stay away. One of my dreams is to have my own study – a personal library… but that won't happen for a while and I've come to accept that! Financially speaking, that dream will have to wait. 
I mean sure, I still treated myself to the odd book here and there… I bought The Evening and The Morning by Ken Follett from Walmart! I needed it for my Kingsbridge series! However, I refused to go inside a bookstore! Why? Because why torture myself?! Ha! 
So I got myself a Kindle and Kindle Unlimited just a little over 6 months ago. Financially and space-wise, it's the smart way to go, I think. One of the things I really love about Kindle is that I have read so many indie authors! 
I mean… obviously I love physical books better but I love being able to take my entire library with me with the Kindle.
My Mr. has been wanting Stephen King's Pet Sematary or The Shining… so off to a SMALL bookstore we went!
*cue church choir*
I decided to head to Black Bond Books – a small bookstore just 10 minutes away – for a couple of reasons:
it's close by
it's a small shop so I won't tempt myself too much
I figured that if we went to a bigger bookstore like Chapters, I would just make it harder for myself because I'd want to buy all the things! You understand my dilemma, right? I feel like I'm not alone in this.


I've been a part of the social book community for a few months now, and I absolutely LOVE the impact that we have. What do I mean by that? 
I mean I loved walking into a bookstore and seeing an entire table spread dedicated to BOOKTOK! I felt… proud. I mean sure… *I* didn't review and suggest/recommend those books they have out… but I love that they pay attention to what the readers have to say.
Yes, readers. Booktok is just that: readers talking about books the have read. Whether or not they enjoyed it. We're not professional critics… or maybe some of us are. Ha! But majority of the social book community are people just like you and I!
I felt so content just walking around the bookstore, looking at all of their books, bookmarks and book bags. I went in not really looking for anything. 
But since this is a post about my small book haul, you KNOW I walked out with new literary babies! (not LITERALLY walked out… I paid for my books! Ha!)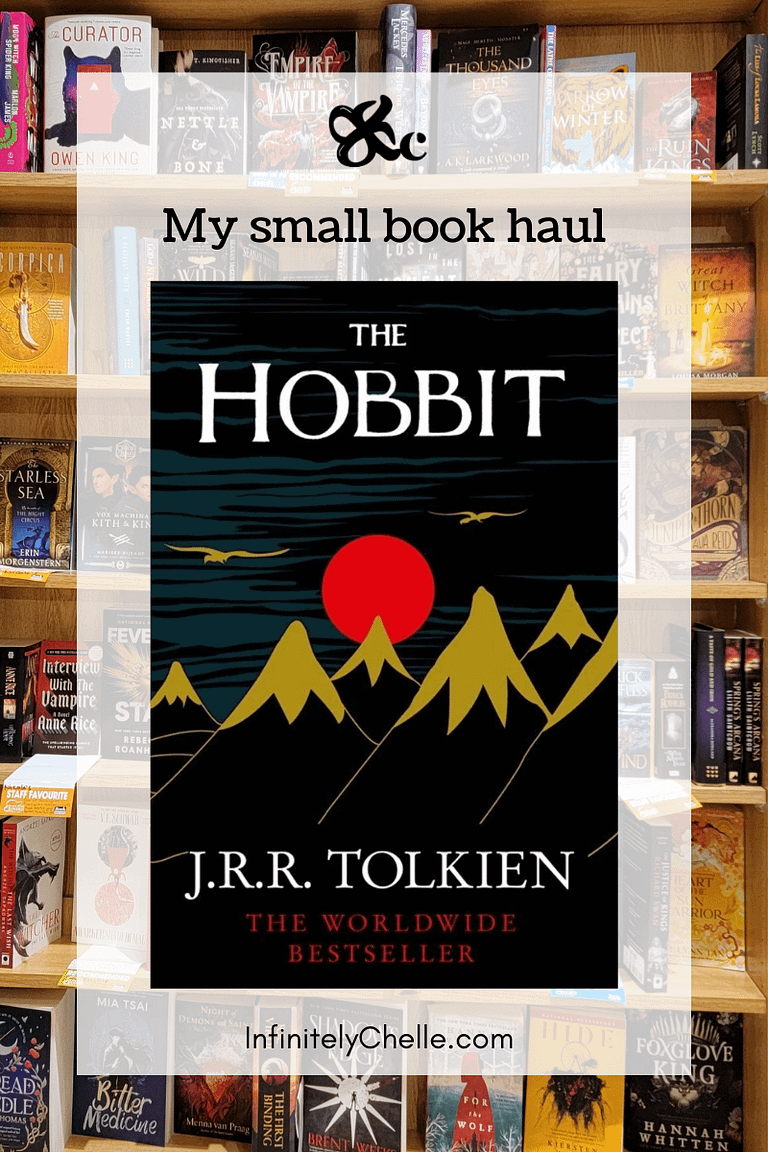 The Hobbit by J.R.R. Tolkien
It may come as a surprise to many, but I have never read any of Tolkien's works. I really enjoy the movies. The movies are amazing! I wonder if having watched the movies will make reading the literary versions easier. I find the entire Lord of the Rings saga quite intimidating.
The Priory of the Orange Tree by Samantha Shannon
Thanks to Booktok and Bookstagram, I recognize this one! All I keep hearing about this book is how amazing it is! With my shitty memory, that is the only thing I can actually remember about it... is that it's amazing. I don't actually know what this book is about. I also didn't know that it's a thicker book. Maybe I should've known it was fantasy because... dragon! *facepalm*

This is actually one of Black Bond Books' "Staff Picks"! The little cardboard cutout said that she - the employee - read this book in 3 days! I think that's the push I needed to rescue this book from the store. I love me a good, thick book!
House of Leaves by Mark. X. Danielewski
When I tell you that I legit *squealed* when I saw this book on the shelf!! I have no idea what this book is about either! Can you believe that? This book has been on my Amazon list for such a long time and yet I have no idea what it's about. I didn't even know it's horror. Yet, I squealed.

This book was suggested in one of the Facebook book groups I am in. The OP asked for "unusual" books. House of Leaves is DEFINITELY unusual. Flipping through the pages shows you just how unusual it is. Different font colors, or the text being printed upside down or in the corner. I am so excited to dive into this book!!

I'm going to hold off on reading this book though. I want to read it once I have no distractions.. or at least minimal distractions! Right now, my mind is too occupied with fixing Infinitely Chelle and getting my shop ready.
Practicing self-control...
So THAT is my small book haul! I was good. I had some self control! It was actually much easier to practice self-control that I thought! My goodness! The prices are crazy! It made me definitely miss working at Chapters…. woohoo employee discount! Ha! 
It made me really appreciate my Kindle. Kindle prices are so much better! 
Have you read any of the books I just bought? What did you think of them? Without spoilers, please!